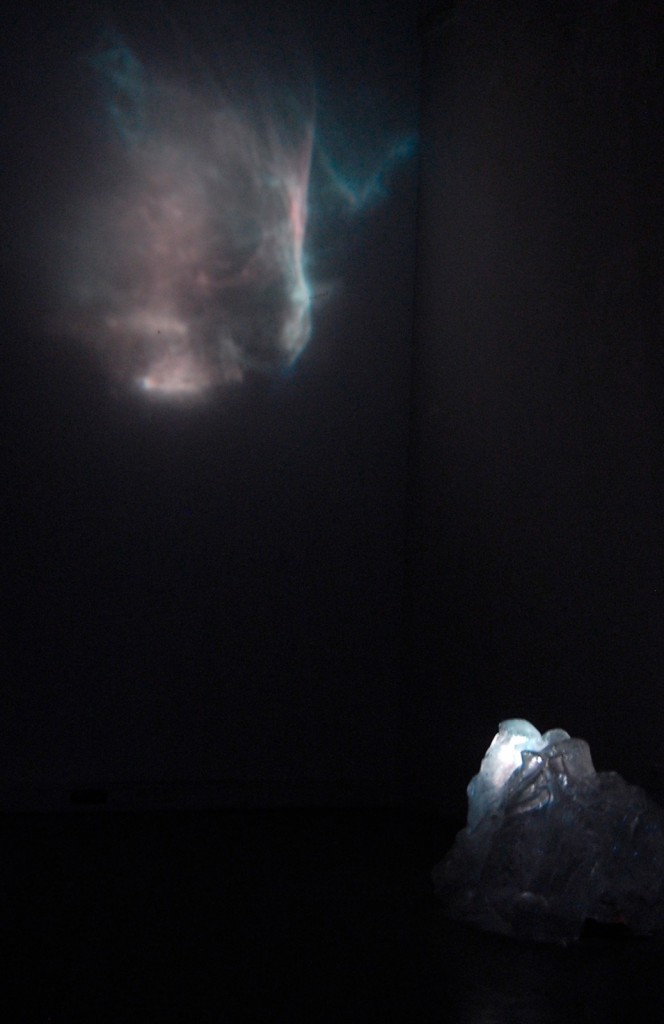 2014
Following Landscape, Memory this piece focuses on the transmission of memories. As our elders share their stories, how can we receive it? Is it possible to integrate these narratives without transforming them?
In this installation, a video is projected through a slumped lead-cristal pieces. The wall only displays slowly moving shades of color. No precise image is visible.
The video was recorded during one of the many meetings with my grandmother where, upon my request, she tells the tale of her life and our shared history. This set up is an attempt to reconstruct these interactions. The desperate desire to seize an inherited memory which, in the end, always seems so nebulous that it is impossible to fully grasp.
∗
Utilisant un élément dérivé de l'installation Paysage, de mémoire,  cette pièce s'intéresse au processus de transmission des souvenirs. Une vidéo est projetée à travers un élément de cristal thermo-formé. De vagues lueurs colorées se meuvent lentement sur le mur qui reçoit la projection. Aucune image précise n'apparaît. La vidéo a été tournée lors de l'une des nombreuses entrevues avec ma grand-mère, durant lesquelles elle raconte l'histoire de sa vie, notre histoire commune. Ce dispositif reproduit l'interaction vécue pendant ces moments et l'envie de saisir un souvenir hérité qui, finalement, semble impossible à réaliser tant cette matière s'avère malléable, nébuleuse.