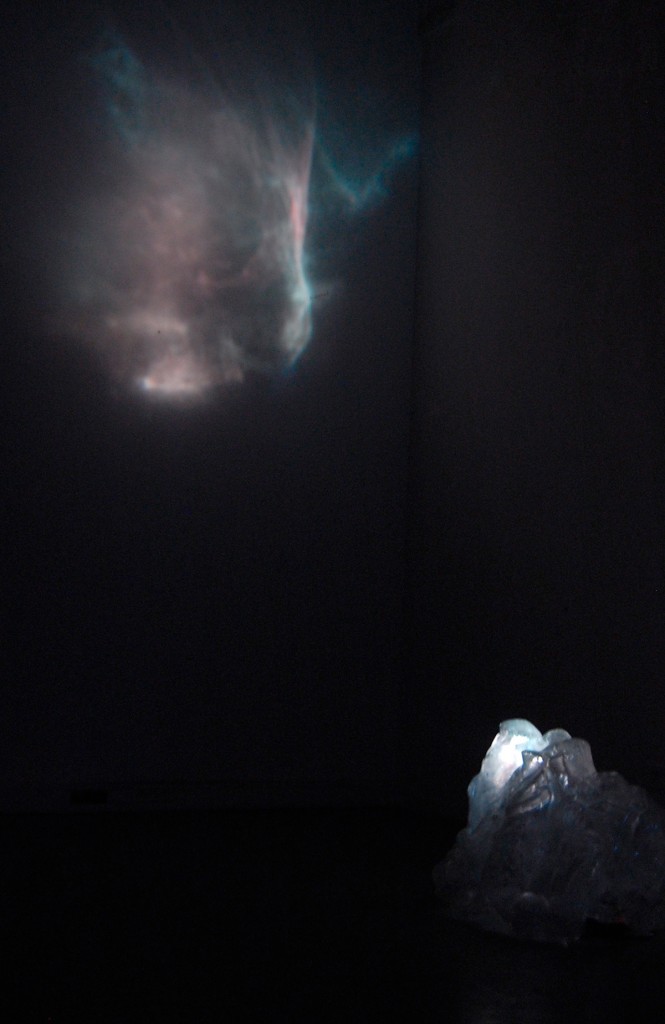 Dimension varies, projection through slummed cristal piece
Following Landscape, Memory this piece focuses on the transmission of memories. A video is projected through one of the slummed cristal pieces. The wall only displays slowly moving shades of color. No precise image is visible. The video was shot during one of the many meetings with my grandmother, where she would relate her life and our shared history. This set up reproduces this interaction, the will to seize an inherited memory which in the end seems impossible to achieve completely.
∗
Dimensions variables. Projection video, cristal thermoformé
Utilisant un élément dérivé de Paysage, de mémoire comme symbole,  cette pièce s'intéresse au processus de transmission des souvenirs. Une vidéo est projetée à travers un élément de cristal thermoformé. De vagues lueurs colorées se meuvent lentement sur le mur qui reçoit la projection. Aucune image précise n'apparaît. La vidéo a été tournée lors de l'une des nombreuses entrevues avec ma grand-mère, durant lesquelles elle  nous raconte l'histoire de sa vie, notre histoire commune. Ce dispositif reproduit l'interaction vécue pendant ces moments et l'envie de saisir un souvenir hérité qui, finalement, semble impossible à réaliser tant cette matière s'avère malléable, nébuleuse.